Night burglaries on the rise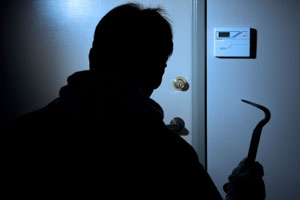 There is a rise in the number of break-ins happening while the owners are in the house. Night is a particularly vulnerable time for homes and families but many of us still do not set our alarms before going to bed.
Here are a few easy ways to protect your home and family at night:
Always set your house alarm – a house alarm is the best ways to keep burglars at bay but it only works if you have activated it!
Check doors and windows – have a regular routine of checking doors and windows before bed.
Put keys away safely – don't leave your keys in a prominent position near the front door.
Hide valuables – wallets, purses and expensive goods such as jewellery and laptops should be stowed out of sight. Don't entice a would-be burglar towards your home.
Exterior lights – leave on security lights at vulnerable places in your property such as the back porch or areas hidden from sight.
If you don't have a house alarm contact Mac Alarms on 045-441479 for a free no-commitment quote or get an Online Quote in seconds.