CCTV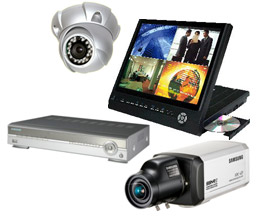 CCTV systems give the user the eyes to see in the dark, see around corners or even watch your premises remotely over the Internet. If your house alarm goes off you can use CCTV to check on your property from anywhere in the world!
CCTV systems have achieved a significant reduction in crime and anti-social behaviour by providing 24 hour surveillance of vulnerable areas, with video recording of events or incidents being available to help the Garda in tracing goods or criminals.
VISUALISE AND IDENTIFY
MacAlarms Ltd. expert installers will advise you on the exact location to position cameras to secure your premises.  The high quality of our cameras will allow you to both VISUALISE (see) individuals in camera range but also IDENTIFY (capture high quality facial image for) to provide 100% identification of the person. CCTV output can be downloaded to USB, DVD or printed out and our display screens are 560 TV lines – similar to High Definition TVs.
CCTV & MONITORING
Using CCTV in tandem with Monitoring allows for cameras to be remotely controlled (from the 24/7 Monitoring Station) and can even allow the Monitoring Station to speak directly to individuals directly who are on your premises. Our Samsung Low Lights Camera are ideal for providing this coverage even in dimly lit areas.
HIGH RESOLUTION CAMERA IN ACTION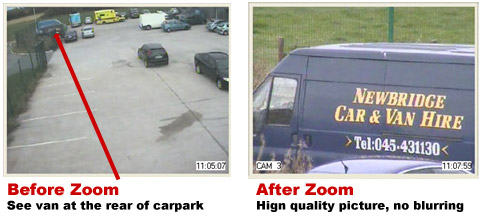 See our CCTV example above where a camera has been repositioned and zoomed (remotely from a computer) to produce an extremely high-quality image that can easily IDENTIFY the vehicle in the picture. Other CCTV systems will produce lower quality and blurred images on zoom but not Mac Alarms Ltd. We supply high-resolution cameras to give you the best images and this helps ensure the safety of your premises 24/7.

WIDE RANGE OF CCTV EQUIPMENT
We provide a wide range of CCTV equipment available including cameras, lenses, pan & tilt heads, control systems, monitors and recording equipment. Mac Alarms Ltd. chooses the best from a variety of world class suppliers to give our customers the best possible pictures at competitive prices. Systems are available for small one camera to one-monitor applications for small shops or homes, to multi-camera systems to on-site control rooms in the larger industrial or retail applications. See the list to the right for some of our CCTV products.

For more information on CCTV Systems from MacAlarms